One of the most difficult decisions that Tesla owners have to make is which tires to use. When you get a Tesla Model Y, you can choose between Gemini and Induction wheels. What's the difference between the two?
Tesla Gemini wheels are 19 inches (48.3 centimeters), while Induction wheels are 20 inches (50.8 centimeters). Induction wheels cost more than the standard Gemini wheels and have a lower range. However, some prefer Induction wheels because of their sporty appearance.
In this article, we'll get into more detail about these wheels. Read on to learn which type would suit you best.
Are Tesla Gemini Wheels and Induction Wheels the Same?
The 20-inch induction wheels and 19-inch Gemini wheels are different and come with different benefits. Gemini wheels are standard, and the Induction ones are the larger wheels, which'll cost you more.
However, some people still choose the 20-inch wheels despite the extra cost. So, let's talk about what they offer.
Tesla Gemini Wheels
Gemini Wheels are the standard wheels for the Tesla Long Range Model Y. You won't have to pay extra for them. These Model Y long range wheels give about 330 miles (531.1 kilometers) of range on one charge, which is a slightly better EPA range (i.e. can go longer distances) than Induction wheels. If you regularly take a long trip or are a fan of road trips, these are the tires for you.
In terms of looks, the Gemini wheels are chrome, which is not a very popular choice. While chrome is fine for some, others prefer the Induction wheels as they provide a cooler look for their Tesla.
The Gemini wheels also offer a Winter weather option for those who live in colder climates. Upgrading to the Winter tire package will cost you an extra $2,750 but equip your Tesla with tires that are better able to handle snow, ice, and rain. They provide extra traction, especially in lower temperatures.
Pros
You don't have to pay extra for them.
They have better range.
They come with a winter option.
Cons
They're not as aesthetically pleasing as Induction wheels.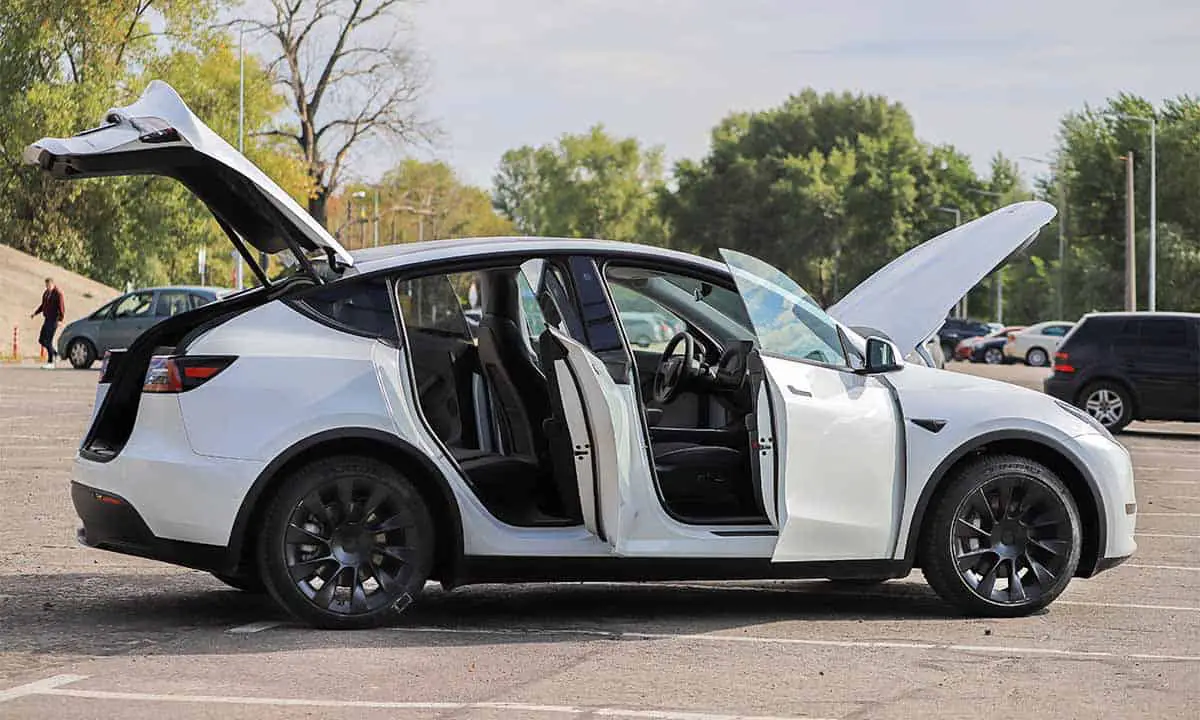 Tesla Induction Wheels
The induction wheels aren't standard for the Tesla long-range Model Y and are an option for those who aren't afraid to pay extra. These wheels are 20 inches (50.8 cm) and provide more ground clearance than the Geminis, but just because they have a bigger wheel size doesn't mean they aren't as smooth. The Induction wheels give you pretty much the same ride experience as the Gemini.
Since Induction tires don't offer a smoother ride, you may be wondering why some people think these expensive tires are the best thing. It's not because of their distance performance as they average around 318 miles (511.8 kilometers) on a single charge compared to the Gemini wheels' 330 miles (531.1 kilometers).
Those who choose the Induction wheels over the smaller wheels are probably more interested in how they perform in inclement weather. The Induction wheels handle better in rain, snow, and other slippery conditions compared to the Gemini wheels without the Winter Tire Upgrade.
Many people also choose these tires because of the way they look. Unlike the Gemini wheels, they're dark and feel more sporty. This is why they are still a popular choice among Tesla owners even though they cost more and have a lower range.
Pros
They're more aesthetically pleasing. They look sporty.
They're better than standard Gemini wheels in inclement weather.
Cons
They're more expensive than Gemini tires.
They have a shorter range than Gemini tires.
If you're already a Model Y owner, you probably know why the Model Y Bang & Olufsen sound system has caused a stir in the audiophile world! If you're not a Model Y owner yet, then I invite you to read my review to find out what all the fuss is about.
What Other Wheel Options Does Tesla Offer?
Now that we have covered the two main types of tires for Tesla vehicles, let's talk about the alternative. If you choose the Tesla Performance Model Y vehicle, you have a third option for your wheels.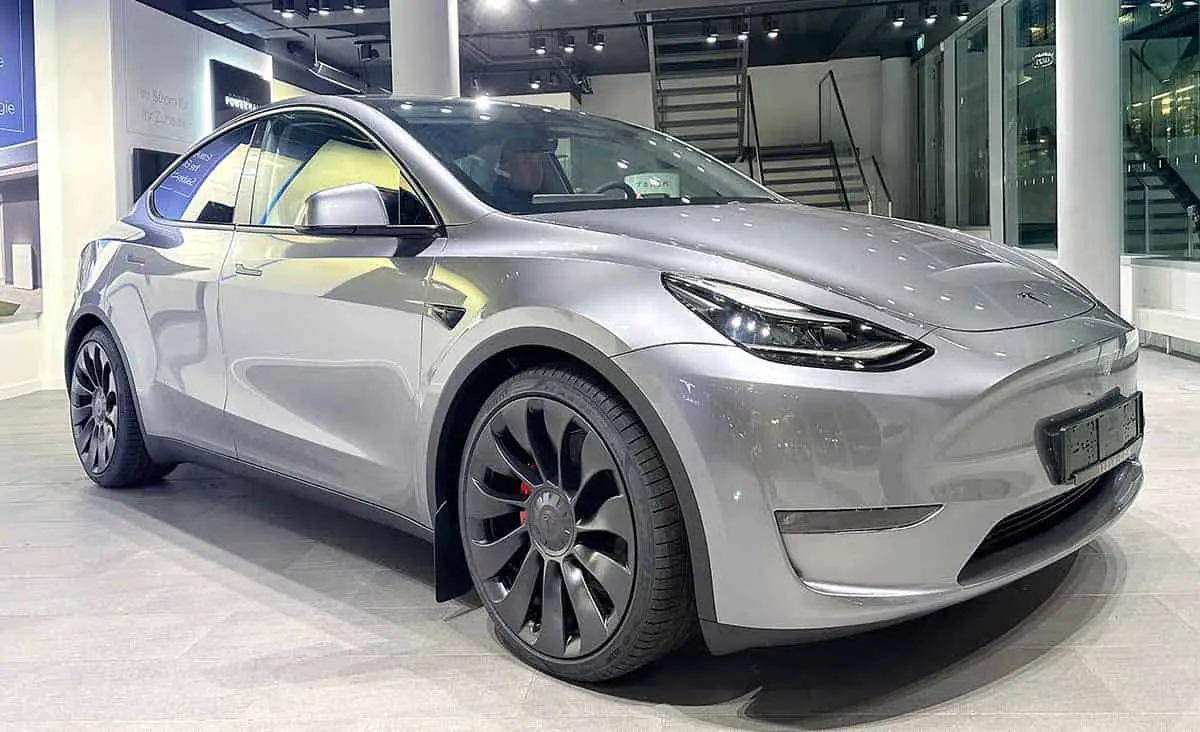 Tesla Uberturbine Wheels
The 21-inch Uberturbine wheels are the largest available for the Tesla and only come with the Performance version of the Model Y. These wheels are a favorite in many categories. Let's talk about what sets the model y performance wheels apart from the Gemini and Induction wheels.
First, many tesla customers prefer these wheels simply because of their sleek and unique design. They provide a unique, sporty look that the Gemini tires lack. In fact, many prefer these over even the Induction tires when it comes to their appearance. But the reasons for their popularity don't end there.
These tires are also the best option for dealing with wet or snowy road conditions. They have great tread. So, you won't have to worry about driving in the snow when it gets cold. Still, when the weather is warm, your Uberturbine wheels have the best acceleration out of any other options.
One reason that some people are hesitant to purchase these wheels is how expensive they are. You should expect to pay $5,000 more for these wheels compared to the Gemini wheels. With Teslas already being expensive, it can be difficult to pay that much more money for tires.
Some customers are also hesitant to choose the Uberturbine wheels because they don't last as long on a single charge. They last about 303 miles (487.6 kilometers) on a single charge compared to the 318 miles (511.8 kilometers) and 330 miles (531.1 kilometers) you can get with the other options.
If you want more information about electric car mileage, check out our article "How Many Miles Can an Electric Car Go?" for a better idea.
What To Consider When Choosing Your Tesla Wheels
Now that we have discussed the differences between your wheel options, let's get into what you need to consider to make the right choice.
Price
First, you need to consider the price of the tires, and if you're comfortable paying more for the ones you want. The Gemini wheels come with the Tesla long-range Model Y at no extra cost. So, you can get good tires without paying extra money.
If you want the Gemini Winter wheels, you'll be paying an extra $2,750. The Induction wheels will cost you about $2,000 more than the original Gemini tires. Meanwhile, the Uberturbine wheels will set you back about $5,000. So, choose your tires carefully.
If you're thinking about a new set of wheels in preparation for a driving holiday, consider reading my best bike racks for Tesla Model Y review.
Winter Weather
If you live in a place that experiences Winter weather, you need to consider a better wheel than the Gemini. There is the Winter tire package and the Induction tires that both offer better options. The best Winter weather wheels are the Uberturbines. They have the best grip and overall snowy or wet weather performance.
Range
It's important to consider the range of your tires before making your final choice. The best range comes with the Gemini tires which will cost you nothing extra. The more you pay for the other tires, the lower your range goes. So, you should consider how far you plan to drive your Tesla regularly before making a decision.
Where to Buy Gemini, Induction, or Uberturbine Wheels
The best place to buy Tesla wheels and tire packages is direct from Tesla at their online shop.
Aftermarket wheels also exist and there are numerous companies selling these types of wheels.
You may also be interested in my eight top tire picks for Tesla cars.
Final Thoughts
Choosing between the Tesla Gemini and Induction wheels can be challenging. While both provide a smooth riding experience, they're very different when it comes to looks, price, and range mileage. Consider each of these factors carefully before making your choice, but know that both wheels are dependable.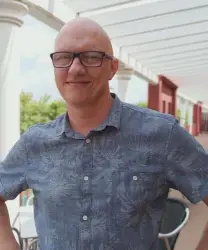 Latest posts by Jonathan Rice
(see all)