Cycling enhances the therapeutic benefits of outdoor recreation. As a member of the Tesla community or a Model Y owner, consider bringing a road bike on your next outdoor adventure. With numerous choices available, choosing the right bike rack for your Model Y can be challenging.
The best bike rack for Tesla Model Y is the Thule EasyFold XT 2 Hitch Bike Rack. This bike rack offers a secure and dependable mounting and fastening system, accommodating a variety of bike styles and sizes. To provide added protection, it is also equipped with an anti-theft mechanism.
Discover the best bike racks in 2023 for Tesla's Model Y through this informative review. Find the right one to elevate your cycling experience.
The Thule bike rack easily attaches to your vehicle's tow hitch and accommodates mountain and electric bikes.
A tow hitch is essential in mounting a bike rack because it provides a secure and stable connection between the vehicle and the rack. The hitch provides the necessary support to transport bikes on the road safely.
The Thule bike rack's compact, foldable design makes it simple to mount and detach for convenient access to your bikes. The foldable bike loading ramp also conveniently retracts into the rack for easy storage.
With a substantial capacity for carrying up to two heavy bikes, this rack is one of the best options.
Pros
Sleek, foldable design for easy transport: The fold mechanism and included carrying handle and roller wheels make it simple to move and store the rack.
Effortless, tool-free installation: The rack arrives complete and can be attached to the tow hitch without tools.
Secure and quiet bike attachment: Equipped with torque-limiting knobs and two pairs of ratcheting wheel straps, the Thule Acutight knobs provide a maximum hold with an inbuilt torque limiter that clicks when correct mounting is achieved.
Convenient trunk access: The Thule bike rack is mounted on the hitch and can be easily tilted with a foot pedal, allowing for effortless trunk access without hindrance.
Reliable warranty: Thule offers a two-year limited warranty on the product, providing you with peace of mind and confidence in your purchase.
Enhanced security: Equipped with a lock to secure both the bikes and the rack to the hitch receiver, this bike rack features an anti-theft mechanism for security against theft.
Compatible with multiple hitch receivers: Works with both two-inch (50 mm) and 1.25-inch (32 mm) receivers, making it ideal for both Model Y and Model X.
Cons 
Pricey: This rack is more expensive than its competitors, but on the flip side, the convenience it offers may be worth the cost.
Compatibility issues with electric bikes: Some users have reported difficulties fitting e-bikes with larger wheels on the rack and issues with wheel straps during bumpy rides.
Want to know if you can flat tow a Tesla behind an RV? I've got you covered in this informative blog post where I answer this question.
This hitch-mounted bike rack from Allen Sports carries up to four bikes and fits most electric vehicles, including the Tesla Model Y.
The Allen Sports Bike Rack utilizes its patented tie-down system to elevate bikes from the hot exhaust and road, providing optimal safety.
The tie-down system also includes side straps for added lateral stability and individual cradles for secure and protected bike transportation.
Pros
Budget-friendly: Despite its ability to hold up to four bikes, this rack comes at a reasonable price, making it your best bet for transporting multiple bikes.
Durable and strong: The rack is made of alloy steel for durability. You don't have to worry about it snapping under load, even on bumpy rides. A simple, sturdy design enables the rack to fold flat for easy storage.
Enhanced safety features: This rack features 22-inch (56 cm) carrying arms that can securely hold up to four bikes. These arms have a versatile design that accommodates various bike styles and sizes. Each bike is held separately for added security. However, the rack is only compatible with a Class III or IV two-inch (50 mm) trailer hitch.
Elegant black powder finish: The rack doesn't look bad, either. An elegant black powder finish makes it stand out from the competition.
Easy to assemble: Though it may look complicated, it is very easy to install. A single configuration design minimizes setup assembly hassles. Once fully assembled, the rack installs on the tow bar hitch mechanism within seconds. You simply insert the hitch into your Model Y's receiver tube and work the hitch pin locking mechanism.
Easy access to trunk: An easy tilt system moves the rack away from your trunk for easier access. When the bike rack is not in use, it can be completely folded out of the way. A no-wobble bolt mechanism then holds it tightly, preventing it from moving around.
Car protection mechanism: Allen Sports includes a padded lower protective frame to protect your vehicle from scratches. This bike rack simply works great with your model Y.
Cons
Narrow carry arms: The narrow carry arms do not work well with e-bikes or any bike with wide wheels.
Extra bungee straps can come in handy: Additional bungee straps are needed to secure the handlebars and wheels. The provided straps are not enough; you will need a couple more, especially if you go on bumpy rides often.
The Allen Sports Deluxe Trunk Mounted Bike Rack is a great option for transporting two bikes on a Tesla Model Y.
Trunk-mounted bike racks are a popular choice for transporting bikes due to several compelling reasons, including:
Unlike tow hitch or roof-mounted bike racks, trunk-mounted bike racks do not require specific types of vehicles. Instead, they can fit in most vehicles with an adjustable hitch.
The Allen Sports Deluxe Trunk Mounted Bike Rack is an excellent option for transporting bikes, thanks to its adjustable hitch that enables it to be fitted to the trunk of various vehicle types.
Some of the unique features that make this bike rack stand out include the following:
Safety features
Versatility
Ease of use
Padded frame to protect the trunk from scratches
Like many other Allen Sports products, this bike carrier is designed for user-friendliness.
Pros
Well-designed arms for easier loading: To facilitate this effective tie-down, the rack uses 12-inch (30 cm) arms for easier bike loading and stability.
Patented individual tie-down system by Allen Sports: The Allen Sports Deluxe bike rack features the patented individual tie-down mechanism, allowing for a versatile fit for various bike sizes and styles. The tie-downs are fixed on the carry arm, yet they can also be rotated for maximum compatibility.
Backed by Allen's lifetime warranty: With Allen's lifetime warranty in place, you can confidently use this bike rack.
Fully assembled: No assembly is required; you simply hitch the rack to your tow hitch.
Designed for durability: Built from rugged, high-quality steel alloy, this rack is made to last and will serve you for a long time.
A lightweight single-configuration design: This bike rack features a patented single-configuration design that expands its versatility. The middle frame of the rack is positioned to keep bikes away from the vehicle trunk, ensuring secure and safe transport for bikes of various sizes and styles across multiple vehicles.
Cons
Obstructs the license if not carefully mounted: This may not sit well with your local authorities.
Makes the trunk completely inaccessible: You have to unmount the rack to use the trunk.
Incompatibility: Compatibility issues with e-bikes and road bikes with wide wheels.
This bike rack is extremely safe and secure, having undergone rigorous tests for driving, pulling, vibration, and swinging. Its sturdy construction of heavy-duty steel, thickened pads, and rubber makes it durable and long-lasting.
The tie-down system is flexible, and there have been no reported issues with e-bikes fitting on the rack.
Pros
Very affordable: This tow hitch bike rack offers great value for money, letting you carry up to four bikes, each weighing up to 33 lb (15 kg).
Versatile adjustment system: The bike rack boasts a fully adjustable tie-down system that includes three buckles, allowing for a secure fit for bikes of various styles and sizes. The rack also features dual compound cradle side straps for added security, ensuring that your bikes are firmly and safely in place.
An easy-to-install locking hitch insert system: This bike carrier also fits into different vehicle types due to its thick tube receiver mechanism. This curved 1.9-inch (5 cm) receiver iron mechanism pushes the rack a distance from the vehicle for ease of installation and better security.
User-friendly foldable design: This design makes the rack easy to carry and store.
Cons
Does not fit all bikes: In particular, only bikes with handlebars can be safely secured onto the rack, which means that women's and small children's bikes are incompatible.
Rigid receiver design: The curved receiver shape is unsuitable for vehicles with low ground clearance, which can pose a problem for some drivers.
Final Thoughts
Bike carriers allow Tesla owners to enhance their outdoor experiences through biking. They come in various styles and mount points, with tow hitch and trunk racks being the most popular and easy to install and use.
When selecting a bike rack for your Tesla Model Y, consider the following:
Cost: Ensure it fits within your budget.
Bike capacity: The rack you choose should accommodate the number of bikes you need to transport.
Mount position: Decide your preferred mount position for the bike rack on your vehicle.
Convenience is also key; opting for a foldable and easy-to-carry rack is recommended.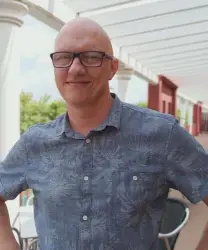 Latest posts by Jonathan Rice
(see all)