Electric scooters are a great way to get around town. They're environmentally friendly and can help you avoid traffic congestion. These scooters can be expensive due to the cost of the motor, battery, and other electronics and the materials used to construct the scooter.
It may be challenging to find an electric scooter for under $200 that meets your expectations for quality and performance.
However, some budget-friendly options may be available for under $200. It's important to research and compare all the different models to find the best option for you, and we've done exactly that. Let's dive in!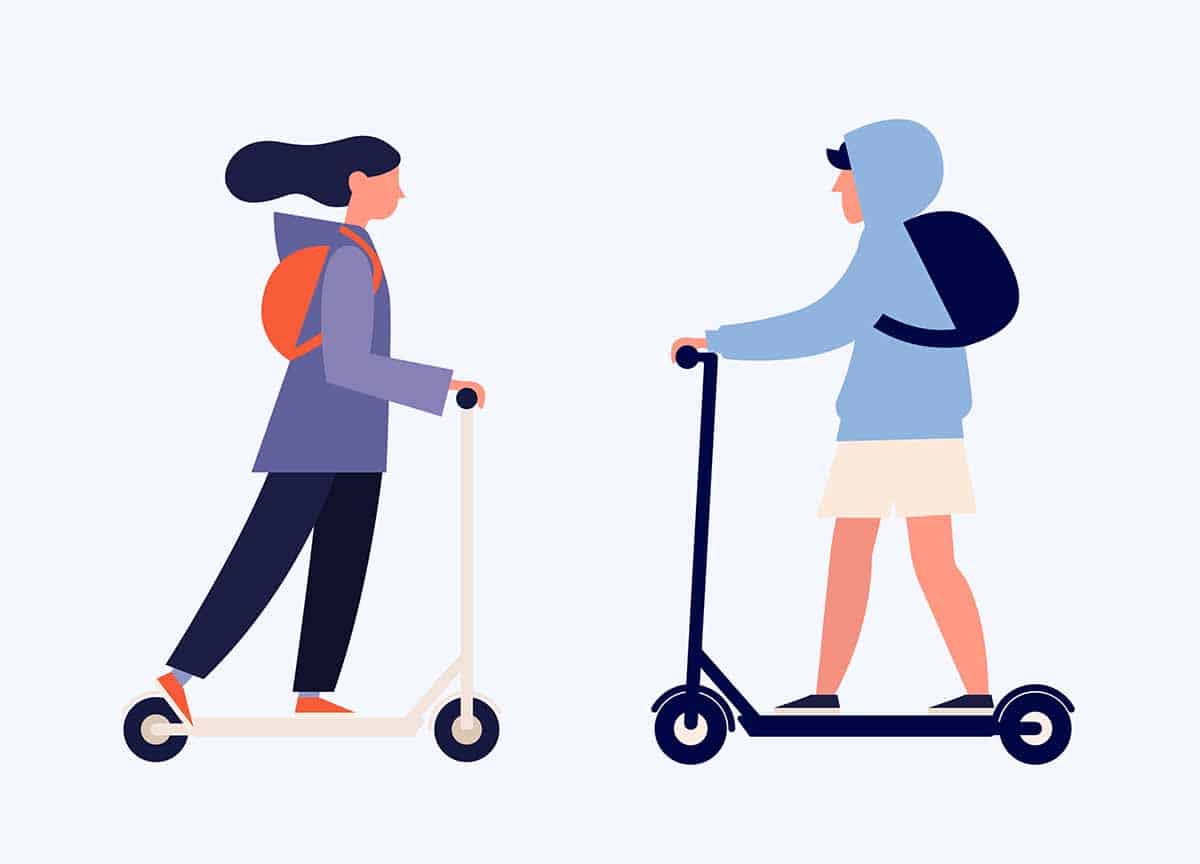 Are e-Scooters Under $200 a Good Choice for Adults?
Electric scooters under $200 are usually targeted toward kids. They typically have a maximum weight limit of 120 pounds (55 kg). Adults tend to weigh more, and if the rider exceeds the rated load capacity, it will stress the scooter's motor and can break its stem.
Also, they might not have the same features as other expensive models, but they can still be fun to ride. Always read the reviews; some cheaper models may have poor quality control and break easily.
For instance, the Turboant M10 is a good example of an adult scooter, but it costs under $500.
Best Budget e-Scooter for Adults – Turboant M10 
Priced around $450, the TurboAnt electric scooter is one of the best budget scooters for adults. It has a top speed of 20 mph, an 18-mile range, and can hold up to 220 pounds. The scooter itself weighs just 30 pounds (14 kg).
Some supplementary features we like include the scooter's fast charging time, its 10-inch inflatable tires that help absorb shock, and the ergonomic throttle that relieve the wrists over longer rides.
Some downsides include the scooter's 350W motor, which makes it slightly underpowered, and the fact that it doesn't ride smoothly on sidewalks.
Click here to know more.
Best Electric Scooters Under $200
Scooters under $200 may not have as much power or range as more expensive models and may not be as durable or well-built. So it's important to know what features you want and pick carefully.
Here are a few electric scooters that may be available for under $200:
YYD Robo 150 Watt
Swagtron SG-8
Viro Rides 550E
Razor Power Core 24V
Ninebot Zing C8
Gyroshoes H30
1. YYD Robo 150 Watt
The YYD Robo 150 Watt is one of the few scooters under $200 that adults can use. It has a top speed of 19 mph, a 13-mile range and can hold up to 140 pounds (63 kg), and comes with app control technology.
It has efficient headlights. You usually need to get extra lighting before using a scooter in the dark. Even expensive scooters tend not to have good lighting, but this budget scooter has them!
Additionally, the scooter is foldable, so you can carry it wherever you go.
One of the biggest reasons we like this e-scooter is its user-friendly. The handlebar is adjustable, so you can fix it according to the rider's height, and the handle goes up to 36 inches. Also, the app control technology allows you to check speed and battery life, control the headlight, lock and unlock your scooter, and track where the scooter is.
You can buy it on Amazon and enjoy amazing deals.
2. Swagtron SG-8
With a range of 10 miles and a maximum speed of 15.5 miles per hour, this Swagtron electric scooter can hold up to 150 pounds (68kg). It has an auto grad braking system with an e-brake and a friction brake. It is ideal for older teenagers and some adults.
The scooter weighs 17.4 pounds (7.9 kg) and has a decent folding design. These two factors together make it such that you have a highly portable scooter.
We like this option because it has high torque, ensuring a smooth ride. It also has a quick charging time. So even though the scooter has a relatively lower range, you can charge it really quickly.
What's more, it is water-resistant and has solid rubber tires. This is handy when riding the scooter in rain or snow.
Note that this scooter isn't fast enough and doesn't have a wide enough range to be used by adults as a regular mode of transportation. However, it is an excellent scooter for recreation.
Click here to make a quick purchase.
3. Viro Rides 550E
The Viro Rides 550E has a maximum speed of 10mph and a range of 6 miles. The scooter is targeted towards 8-year-olds to young teenagers and has a friction brake over the rear wheel.
What makes this scooter stand out is its stylish design.
There are a couple of reasons why you'd want to get it. It has precise speed control so the rider knows exactly how fast they're going and can adjust their speed however and whenever they want.
Some other features of the Viro Rides 550E include a lightweight aluminum frame, a kickstand, and a front and rear suspension system.
The frame adds to the design elements of the scooter by making it look stylish. The kickstand allows the rider to use it as a normal kick scooter if their battery runs out. Finally, the suspension system ensures the rider has a smooth riding experience.
To place an order and go through customer reviews, click here.
4. Razor Power Core 24V
The Razor Power Core 24V electric scooter has a maximum speed of 10 mph, a range of up to 11 miles or up to 60 minutes of usage, and a weight capacity of 120 pounds. This scooter is designed for kids and has all the best features a 15-year-old could need.
Testing the scooter showed that the specifications provided by the company are fairly accurate but should be taken with a grain of salt. Realistically, the scooter clocks around 10.6 miles instead of 11 before its battery dies. Also, its maximum speed goes up to 11 mph.
The e-Scooter has a pneumatic front tire and an airless tire at the back. The pneumatic tire offers higher ride quality but can get punctured, while the rear tire is solid and can't get punctured but has poorer ride quality. You get a diversified risk of flats and a fairly smooth ride.
At 55 pounds, this scooter is on the heavier side. Kids and young teenagers won't be able to lift it easily. So be sure the rider won't have to lift it before purchasing one.
Click here to buy one and enjoy frequent deals and discounts.
5. Ninebot Zing C8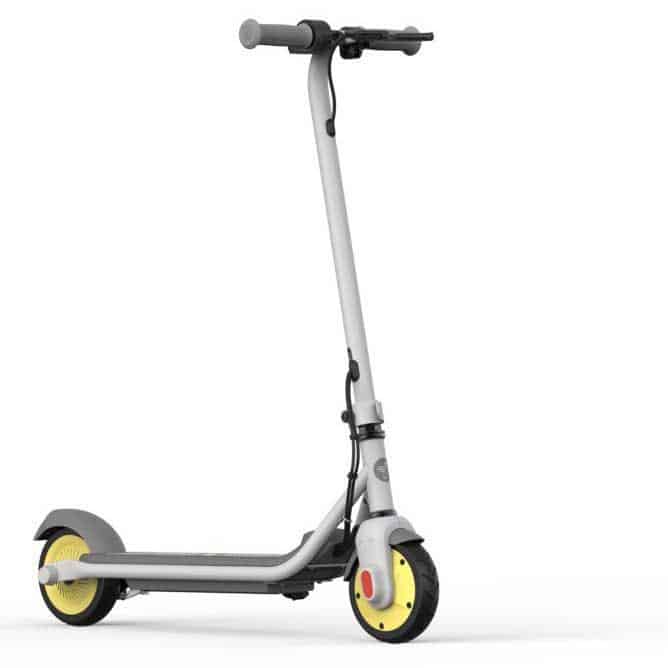 At 17.4 pounds (7.9 kg), this Ninenbot electric scooter is one of the lightest budget options. It is ideal for kids who are between 114 cm (3′ 9″) and 145 cm (4′ 9″).
It has a maximum speed of 10 mph and a maximum range of 6 miles (9.7 km). Even though the scooter has a smaller range, its battery charges quickly, in just 3 hours. It has a weight limit of 110 pounds.
With a spring damper and a shock absorption mechanism, the Zing C8 offers its rider a smooth ride. The solid 6-inch tires are made of high-quality synthetic rubber, resistant to punctures, and ensure a quality riding experience.
However, some riders may not feel comfortable since these tires feel small.
Note that this is an electric kick scooter. So if it dies while riding it, you can use it as a regular kick scooter and get to where you need to go. You're not left to fend for yourself on a sidewalk.
For more details, click here.
6. Gyroshoes H30
The last scooter we're reviewing is the Gyroshoes H30. It has a top speed of 6.3 mph, a range of 6 miles, and weighs 9.2 pounds (4.2 kg). This scooter is targeted toward 6 to 14-year-olds because it has a load capacity of 110 pounds (50 kg).
Despite having the least impressive features of all the scooters mentioned on this list, we still like this one and recommend buying it because it has a couple of good supplementary features that make it stand out. For instance, it has a smooth starting and an adjustable handle.
So even though it isn't the fastest or the most durable electric scooter, it is the perfect gift for kids. The air-free tires ensure that the rider never has to deal with punctures which is ideal for young children.
The assisted motor ensures there isn't any jerk when starting the scooter. Riders can adjust the handle's height at three different levels, giving them a comfortable riding experience.
Factors To Consider When Buying a Scooter
In case you can't figure out which scooter to buy, consider prioritizing the following factors and decide accordingly:
Maximum speed
Range
Weight capacity
1. Maximum Speed
The first factor to consider when buying a scooter is its maximum speed. Even when you're shopping on a budget, you shouldn't compromise on this.
The ideal electric scooter should be fast enough to get you around quickly but not so fast that it is dangerous. You have to determine the suitable speed limit based on who the scooter is for.
If you're shopping for a young teenager, you want one with a maximum speed of around 10 mph. However, if you're shopping for an adult, one that goes up to 20 mph would be most suitable.
2. Range
Another factor to consider is the scooter's range. Electric scooters run on a battery and must be recharged after a little while. The ideal scooter can get you where you want to go without running out of juice halfway there.
6 to 10 miles is enough for young teenagers. Adults planning to ride the scooter across long distances will need between 15 and 20 miles.
3. Weight Capacity
The last factor you must consider is the scooter's weight limit. It should be able to support the rider's weight and any luggage. So it's a good idea to add around 15 pounds (6kg) to the rider's weight when looking at maximum load limits.
Going above the suggested weight limit is never a good idea. Putting more than the maximum load on a scooter will put pressure on its motor and ensure that you reduce the machine's life exponentially. Instead of running for six months, it will run for one month before needing to be replaced.
FAQs
Which Electric Scooter Is The Best In Budget?
Your best in-budget option is the YYD Robo 150 Watt electric scooter. It reaches speeds up to 19 mph, can carry around 140 pounds, and cover over 13 miles of distance. All that for under $200. Plus, it's foldable, so you can pick it up and conveniently carry it wherever you go!
The adjustable handlebar makes it suitable for all users, and the app control technology is extremely easy to use. You can keep track of your scooter's location, speed, battery life, locks, headlights, etc., straight from your phone.
How Much Are The Cheapest Scooters?
You can get an extremely low-priced scooter for around $200 to $250. These starter e-Scooters don't come with many additional features but will definitely get you around.
What Is The Best Value For Money Electric Scooter?
The TurboAnt is the best value-for-money budget electric scooter. For the affordable price of $450, you can get a high-quality e-scooter with speeds up to 20 mph. It can carry over 220 pounds and has an 18-mile range, making it suitable even for long-distance rides. The scooter has an incredibly fast charging time, ergonomic design, and shock-absorbant tires.
Conclusion 
If you're buying a scooter on a $200 budget, you're limiting yourself to a small range of scooters. Within this range, you can definitely find a decent deal on quality electric scooters for kids. However, it is difficult to find one suitable for adults. So if you're shopping for adults, we'd recommend increasing your budget.
Look through the various scooters we've reviewed and pick one that best suits your needs.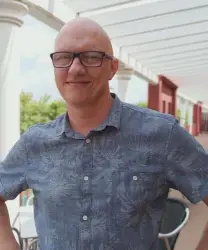 Latest posts by Jonathan Rice
(see all)