Electric scooters are quickly becoming a popular mode of transportation, especially among young adults. However, for these scooters to be an effective mode of transportation, they need to be able to get you from one place to another relatively quickly.
Wondering which is the fastest e-scooter? Let's take a look at the fastest option available for you.
The Rion RE90 is marketed as the "World's Fastest Hyper Production Scooter." It goes up to 70 mph easily but can hit 80 mph depending on how much weight you put on it. These handcrafted machines are some of the fastest machines you'll find.
Keep reading to learn more about the Rion RE90 and whether or not we think it's worth the price tag Alien Rides puts with it.
Rion RE90: Everything You Need To Know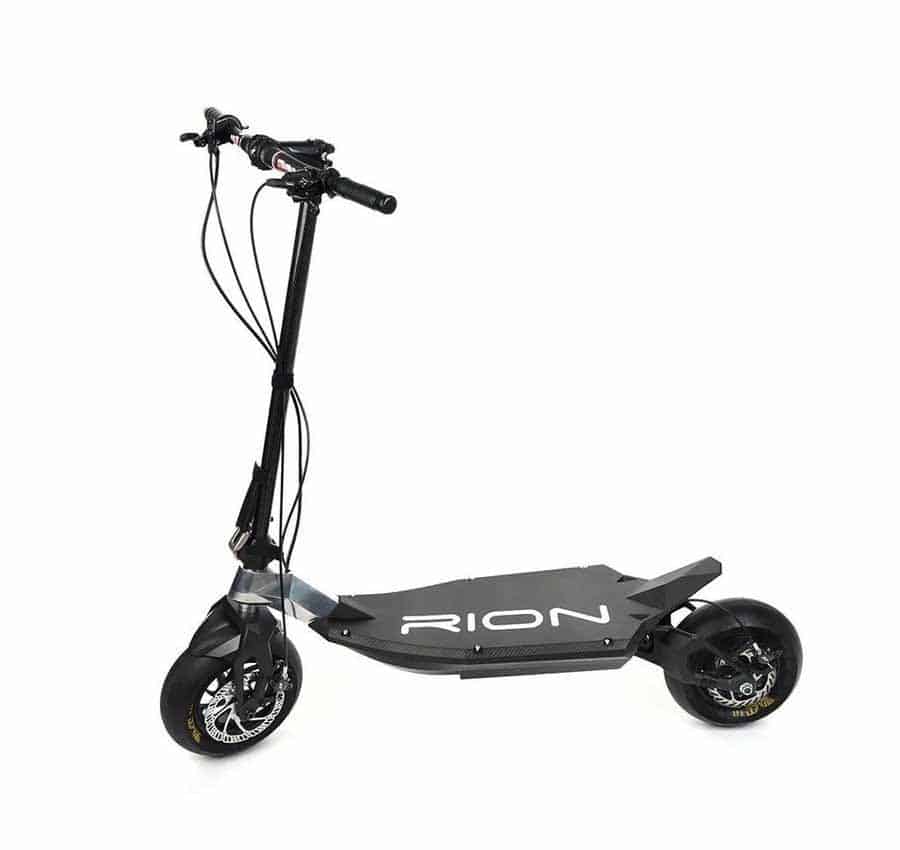 The Rion RE90 is the fastest scooter you'll come across. But more than that, it is one of the best-designed scooters you'll come across.
It has a rugged and athletic appearance with a frame that reminds you of a sports bike. It has sharp edges and a sleek finish. Most of the frame is made with carbon fiber which is beautiful to behold!
Since the scooter has a super powerful motor, Alien Rides did not bother adding many supplementary features. It doesn't have headlights, rear lights, or kickstands. Its main feature is its speed, because it targets thrill seekers looking for a fast ride.
It isn't meant to be a practical, efficient mode of transportation.
Even so, there are a handful of supplementary features. The best one is this scooter's customizability. Since each machine is handmade, you can send your custom measurements for the pole tube's height or a custom color for the aluminum arms.
How Much Power Does It Have?
The scooter is powered by a 96.6-volt lithium-ion battery with 21700 ultra-high capacity rate cells. It has a 10,000 W motor.
How Fast Does It Go?
The scooter's motor can theoretically reach 100 mph, but the manufacturer limits it to 80 mph.
What Is the Range of the Scooter?
The scooter's range falls between 40 and 50 miles. The exact range will change depending on how fast you're going and how much weight you put on the scooter.
It takes about 4.5 hours to charge it fully.
How Much Does It Cost?
This Rion scooter is in high demand and is usually sold out at all retailers. If you can find a company willing to sell you one of these machines, it will cost at least $6,700. However, if you're buying from a third-party retailer, you might have to pay a lot more.
Also, note that you will have to pay a hefty shipping fee for the scooter if you're buying it online.
Is the Scooter Worth the Cost?
The Rion RE90 is a very expensive scooter. Unfortunately, it doesn't have a lot of good features other than its high speed. So if you're looking for a mode of transportation, you should look at other scooters. We recommend some further down on this page.
Features To Look for in a Scooter
In addition to speed, there are quite a few features you should look for when buying a scooter. These features are especially important if you plan on using the scooter as a regular mode of transportation.
The Rion RE90 does have some of these features. But it doesn't have a lot of others.
They are:
Range and charging time
Load Capacity
Portability
Lighting
Braking system
Range and Charging Time
One of the most important things to consider when getting a scooter is its top range. The ideal scooter can get you where you need to go without its battery dying out. Also, you shouldn't need to charge it at your destination to be able to come back.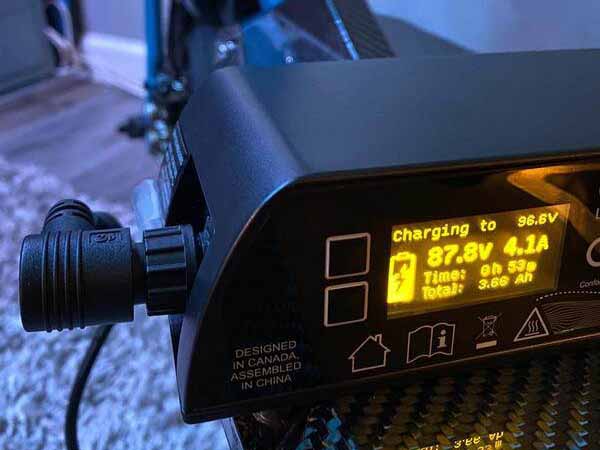 Moreover, the scooter should have a decent charging time. Anything beyond 6 hours is simply outrageous. You need to be able to use your scooter and can't have it charging constantly. 6 hours should be the maximum because then you can plug it in at night and use it in the morning.
Lastly, the range and charging time should complement each other. If your scooter has a super short range, but a long charging time, you're not getting much out of the machine. On the other hand, if your scooter has a 50-mile range and a 4-hour charging time, that's reasonable.
Load Capacity
The second factor you should be thinking about is the load capacity. Scooters are built with very specific machinery that can only hold up to a specific weight. If you put more weight on it, it will get damaged.
Moreover, if you put more than the recommended load on a scooter, it won't be able to reach its top speed, and its battery will die out before it reaches its maximum range, so you won't be getting the most out of your scooter.
Unfortunately, a lot of scooters don't accommodate riders. However, some do. We recommend some of them below. If you're a heavier rider, you should look at them to ensure you're getting everything you can from a scooter.
Portability
Another important feature is portability. This covers two different areas: folding mechanism and storability, along with weight and whether the scooter is easy to carry.
For the first area of the folding mechanism and storability, you'll find that most quality scooters have a decent folding mechanism. It takes anywhere from 5 to 10 seconds to make these machines compact. This comes in handy if you're traveling in a car or have to store the scooter away.
The second area is where a lot of scooters fall short. Most scooters weigh a lot. So even though you can fold them, it is quite difficult to pick them up and carry them up a flight of stairs. Strong and fit people won't have trouble carrying 60 pounds, but some people do.
Remember to look at the scooter's weight if you're the kind of person who falls into the second category.
Lighting
Lighting is another super important feature. If you plan to ride your scooter at night, it must have lights. Otherwise, cars won't be able to see you, and you can have an accident.
Some scooters don't have effective lighting systems; if you end up with one of them, you'll have to get extra lighting.
You need at least one headlight and one tail light. However, it's ideal to have indicator lights when you're turning because that can help traffic behind you drive safely.
Note that many areas, especially in the United States, don't have very specific laws regarding vehicles like scooters. So it's crucial to get lights and protect yourself.
Braking System
The last feature we recommend keeping an eye out for is a braking system, and this is especially important if you're looking at fast electric scooters.
While it's fun to have a scooter that can go from 0 to 15 mph in 2 seconds, it is also crucial to make sure it can go back to 0 in the same period. Otherwise, you'll endanger yourself and everyone else on the road. 
Seating and Accessories
Some electric scooters come with the option of having a seat, which can provide added comfort. Other accessories, such as baskets, storage, additional lighting etc. are also available both as standard features or as after-market products.
The Four Fastest Well-Rounded Scooters
If the Rion RE90 isn't to your liking, I have reviewed four other scooter options too!
These fast scooters are well-rounded machines whose manufacturers focus on supplementary features to ensure that the rider can use them every day.
Most good quality scooters can easily go up to 30 mph, which is the estimated range the following scooters fall under. While this doesn't come close to the Rion RE90's top speed, it is fast enough to meet most adults' requirements. This is why these electric scooters have become increasingly popular as a mode of transportation, especially in urban areas.
A lot of people ask how they can get more speed out of their existing e-scooter, so I wrote a list of DIY hacks to make an electric scooter go faster.
Here are the four fastest well-rounded scooters
NAMI Burn-e 2
Mantis V2
Mantis King GT
Splach Titan
Top speed: 45 mph
Range: 50 to 90 miles
Load capacity: 330 pounds
Weight: 100 pounds
Charging time: 6 to 8 hours
Pros
Fast acceleration
Strong battery
Wide range
Carbon fiber stem
Customizable riding modes
IP55 water-resistance rating
Cons
The display can get damaged when you fold the scooter.
Review
The Nami Burn-e 2 is one of the best high-performance fast scooters you can get your hands on. It has a 5,040 W power output and an incredibly fast acceleration rate. It can get up to 15 mph in just 1.8 seconds and 25 mph in 3.2 seconds.
Most scooters can't even get to 15 mph in 3.2 seconds!
More than just being super fast, its acceleration is very smooth. So the rider doesn't have to worry about bumpy or unsafe take-offs.
Another great feature is its suspension system. When we say this scooter has one of the best suspension systems we've ever seen, we mean it. It delivers excellent control and grip. You can lean into corners and make steep turns without any worries.
The braking system further adds to how smooth this scooter is. It can go from 15 mph to a complete stop in 1.8 meters – that's 0.0011 miles.
Mantis V2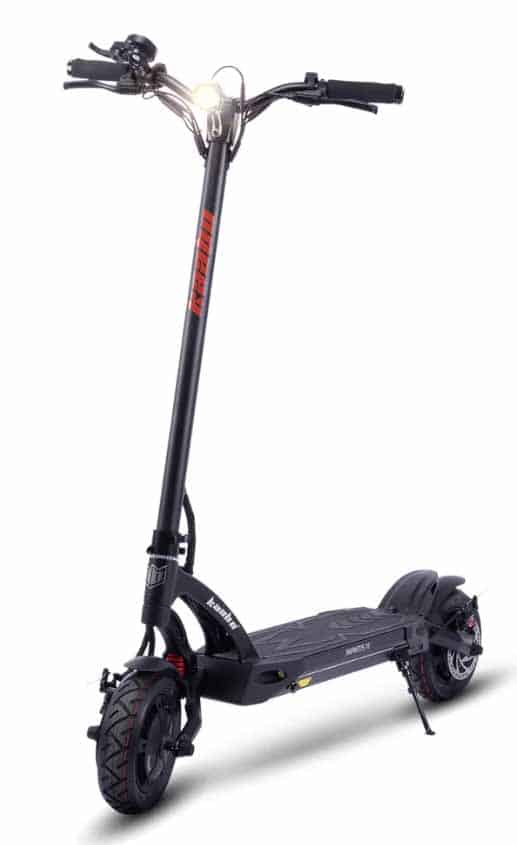 Top speed: 40 mph
Range: 28 to 33 miles
Load capacity: 265 pounds
Weight: 65 pounds
Pros
Rapid acceleration
10-inch tires
Effective swingarm and dual spring suspension
Ergonomic handgrips
IPX5 water-resistance rating
High-mounted headlight and turn signals
Cons
The 18.2 Ah model isn't suited for long-distance travel (the 24.5 Ah model handles it well).
The headlight isn't super bright.
Review
The Mantis V2 is the second cheapest scooter we're recommending on this list. Priced at just below $2000, it has a peak power output of 3000 W and a decent acceleration that takes your scooter from 0 to 15 mph in 2.1 seconds and from 0 to 25 mph in 4.7 seconds.
Despite this fast acceleration rate, it is one of the safest scooters you can get your hands on. It has a dual braking system with wide handlebars, ergonomic handgrips, and a roomy deck.
The deck is covered in anti-slip rubber, and the braking system has a hydraulic and a regenerative component, ensuring that the scooter has sharp and responsive stopping power. Even if you're going super fast, you can be sure that it will come to a stop as soon as you need it to.
One of the best things about this scooter is that you can take it off-road. There are very few electric scooters that are suited to this task. Either their tires aren't wide enough, or their motor doesn't have enough power. None of those problems exist with the Mantis V2.
You can take your Mantis V2 on dirk tracks or forest trails, and it'll perform just as well there as it would on flat pavement. Its 10-inch air-filled tires and suspension system absorb all the shock and vibration.
Click here to buy one for yourself!
Top speed: 43 mph
Range: 38 to 56 miles
Load capacity: 265 pounds
Weight: 74 pounds
Pros
Effective folding mechanism
Wide handlebars
Ergonomic controls
Fast and smooth acceleration
Adjustable hydraulic suspension
Terrain agnostic tires
IPX5 water-resistance rating
Controllable
Cons
The headlight isn't super bright.
Off-road tires are a little loud.
Review
The Mantis King GT offers you great value for money. Not only is it super fast, with a maximum speed of 43 mph, but it also has a powerful motor, excellent acceleration rates, and offers a smooth ride.
Its suspension system, paired with the tires, makes the rider feel like they're gliding down the road. The tires nuzzle into the terrain and ensure you get a super smooth and pleasurable ride.
The scooter is run by two 1100 W motors which produce 4200 W power. This should be enough to tell you how powerful the scooter is!
With an expansive deck and 26-inch handlebars, it is also fairly easy to use because it's super comfortable. You can expect to stay firmly planted on it even at fast speeds. The kickplate allows you to distribute weight across the scooter and improve your balance.
The hydraulic breaks can have this scooter go from 15 mph to a complete stop in just 2.1 meters. This is slower than the Nami Burn-e 2 but still pretty impressive.
Portability isn't this scooter's strong suit. At 74 pounds, it is heavy. So even though you can fold it up, it isn't the easiest thing to carry around.
The TFT display tries to compensate for that issue. It has all the information you need while riding the scooter, such as battery life, mileage, and speed. Depending on where you're riding, you may need to pay attention to speed limits, etc.
Using straightforward buttons, you can control your horn, turn signals, and lights. The thumb throttle for speed control has a great ergonomic control that ensures your finger doesn't tire over long-distance travel.
A security system keeps your scooter safe. Before you can ride this machine, you need to enter a 4-digit pin. Moreover, you can attach a U-Lock to the scooter for some additional security.
The scooter also comes with adjustable front and rear hydraulic shock absorbers, ensuring a smooth ride.
In terms of lighting, this scooter outperforms many of its competitors. It has differentiated rear turn signals, LED lights, and LED strips on both sides. You won't have any problems riding this scooter at night because it has one of the best lighting systems you'll come across.
Splach Titan
Top speed: 37 mph
Range: 29 to 44 miles
Load capacity: 220 pounds
Weight: 64 pounds
Pros
Sharp breaks
Value for money
Handles all types of terrain
Effective lighting
Good for long-distance travel
IP54 water-resistance rating
Cons
The deck is a little short.
Tires can't make sharp turns.
Load capacity doesn't allow for heavier riders.
Review
Lightening quick acceleration, large dual 1000 W motors, and a reasonable price of around $1200, this scooter is a prime example of value for money. You need an NFC card reader to unlock the scooter, and you can customize its lighting rig.
The scooter has terrain-agnostic tires, which are cool because it means you can ride it on uneven territory.
In terms of speed, this scooter can get up to 37 mph in what seems like a quick flash! It is run by dual 1000 W motors, which are quite powerful. They produce a power output of 2600 W which can get your scooter from 0 to 15 mph in just 2.5 seconds and from 0 to 25 mph in 4.9 seconds.
No other scooter in this price range has such powerful acceleration. The Mantis V2 is a few tenths of a second faster but also a few hundred dollars more expensive.
The fast speed and acceleration are paired with a powerful braking system that can take just 2.4 meters to bring you to a complete halt from 15 mph.
The scooter's handlebars are also quite impressive. At 27 inches, they're some of the widest we've come across. Wide handlebars allow you to have great steering control and make sure you can balance yourself on the scooter even when you're going at fast speeds.
Moreover, the handlebars are ergonomic, so your hands won't get tired even after long rides. They're made with rubber and have flared-out ends. So your hand can't slip off when riding at 37 mph.
In terms of height, this scooter is 52 inches tall. So super tall people who cross 6 feet can't use this scooter easily.
As for design, the scooter has a minimalistic feel. Even though its handlebars have carefully designed features, they aren't obnoxious and don't have too much flare. They're very tidy and sleek.
Its frame is made with aluminum which is lightweight but tough. All of this is topped off with a matte black finish. The wide tires stand out since they're bigger than a typical scooter's tires, but they do so in a good way. It shows that this isn't a kid's scooter and is meant for adults.
Head over to the website to make a quick purchase.
Benefits of Using a Fast Electric Scooter
Electric scooters are a great way to get around town since they're fast enough to be an efficient mode of transportation. Also, they're much faster than traditional scooters or bicycles, with most good adult scooters going up to 30 mph.
These scooters typically come with features like foldability and portability, making them more convenient than traditional scooters or bicycles.
Moreover, electric scooters are environmentally friendly since they're powered by batteries and are emission-free. Unlike cars and motorbikes, they don't harm the planet and are a lot cheaper than those destructive vehicles.
FAQs
Can Scooters Go 50 mph?
The average electric scooter can reach speeds of around 30 mph, however, many e-scooters come with a high-speed turbo mode option that can reach around 50 mph. These top-quality devices come with dual motors and multi-gear options so riders can accelerate easily and cover long distances quickly.
What Is The Fastest Electric Scooter 2023?
With the Rio RE90, you can travel at speeds of around 80 mph, zooming through the city! A 96.6-volt lithium-ion battery powers this scooter with 21700 ultra-high capacity rate cells. With a range of around 45 to 50 miles, the Rio RE90 can cover its fair share of distance. It takes about 4.5 hours to charge this scooter fully, and although hard to find in stock, its retail price is around $6700.
Conclusion
The fastest electric scooter you can get your hands on is the Rion RE90, which can go up to 80 mph. However, it is not an all-rounded scooter with other efficient features.
So it's a great scooter to go for if you're a speed junkie. However, if you want an effective mode of transportation, you should probably look at one of the other scooters recommended above.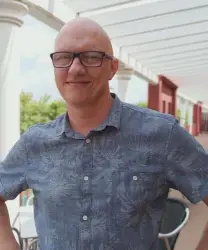 Latest posts by Jonathan Rice
(see all)