Electric scooters can be a great mode of transportation for teenagers since they are easy to use, fun, and can help them get around quickly and easily. 
Buying Guide: Factors To Consider
However, there are so many options when buying an electric scooter. So how do you narrow down your options and pick the one best for your teenager?
Here are 6 factors to consider:
Teen's Age
Size of the scooter
Weight limit
Speed limit
Range
Price
1. Teenager's Age
Depending on the age of the teenager you're shopping for, the kind of electric scooter you should purchase changes significantly.
If they are in their early teens, they might not be able to handle a big scooter safely, so you must look at easy-to-handle scooters.
On the other hand, those in their mid or late teens might not think it's cool to ride an electric scooter meant for younger kids. You'll have to look at machines that are durable, efficient, fast, and can be used to get around conveniently.
2. Size
The scooter should be big enough for the teen to ride comfortably. At the same time, it shouldn't be too big, or it will be difficult to maneuver.
This factor has a lot more to do with the teen's size than their age. It's important to be conscious of who you're getting the scooter for because any given machine is not one-size-fits-all.
3. Weight Limit
The scooter should be able to support the teenager's weight and any belongings they need to carry with them.
If the teen you're getting the scooter for goes to high school, you should factor in the weight of their school books. On average, add between 12-20 pounds (5-9 kilograms) to their weight when looking at weight capacities for scooters.
4. Speed Limit
The ideal electric scooter should be fast enough to get around quickly but not so fast that it's dangerous. There's a small sweet spot in the middle, and you should aim to get a scooter that falls within it.
Should you be interested, I have an article covering my best picks of the fastest electric scooters on the market.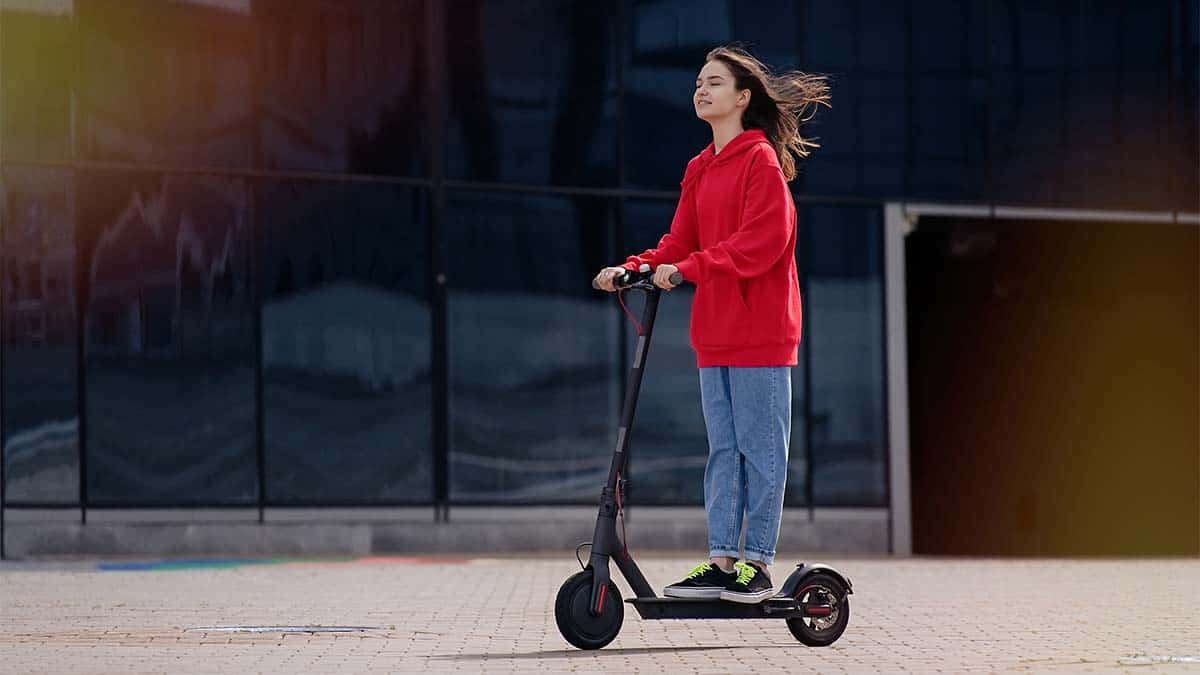 You have to figure out what the sweet spot is. If you're getting a scooter for a young teenager, the maximum speed should be a lot lower than what it would be if you were getting it for an older teen.
Many electric scooters have a maximum speed limit of around 15 mph. This may be too fast for some teenagers, so it is important to find one with a lower top speed if necessary.
5. Range
Another factor to consider is the range of the scooter. Since this is an electric scooter, it runs on a battery and needs to be recharged. The teenager should be able to get to where they're going without the battery running out of power halfway there.
All manufacturers put a battery range with their products. They'll increase it sometimes, so you should take their estimates with a grain of salt. Look at customer reviews because those tend to be more accurate.
If your teen will use the scooter for longer distances, make sure to get one with a good range (usually 20 miles or more).
6. Price
Scooters can help your teenager save money on gas since they won't need to get around in a car anymore. However, if the scooter costs a lot, they'll end up spending more money than they'll save. That isn't super productive.
So you should consider whether the scooter you want to purchase is affordable. Some cost a lot, while others are cheaper, but don't offer as many features. The ideal scenario is when you can spend as little money as possible and get a lot of value for it.
If you're on a tight budget, you might find my pick of the 6 best budget electric scooters under $200, perfect for teenagers.
Top Electric Scooters for Teenagers
I'm dividing our recommendations into age brackets. However, you know your teenager best. So there's a good chance they may not like the scooter recommended for their age bracket as much as a scooter recommended in another.
Therefore, you should probably skim through all the options I'm going over to get a good idea of what you can choose from. Then pick one that you think your teenager would appreciate the most.
You'll notice that the speed, range, and load capacity of the scooters progressively increase as you move down the list. Scooters targeted toward older teenagers tend to have more advanced features.
Up to 12 years – Gotrax GKS Luminos
The Gotrax Luminos electric scooter is marketed toward 6 to 12 year olds because it has attractive colors and LED wheels.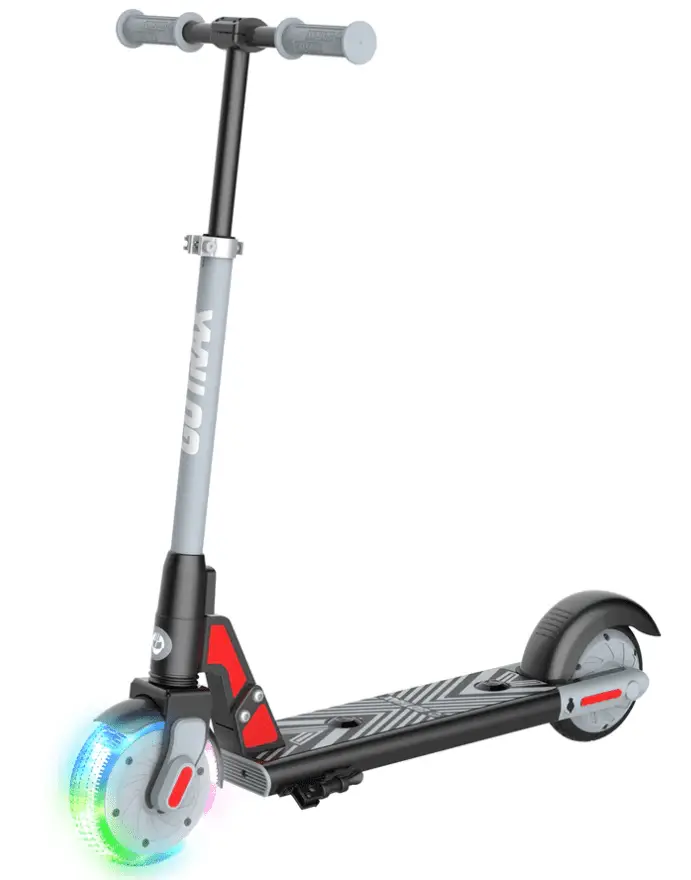 It has a limited range of just 4.8 miles, so the kid won't be able to go super far with it. That's probably good for a young teenager.
As for speed, the scooter can go up to 7.5 mph. This is quite safe for 12-year-olds. You don't have to worry about them speeding or getting into trouble.
The adjustable handlebars go from 32.5 inches to 37 inches. So irrespective of how fast a kid is growing, there's a good chance they will be able to ride this scooter without any worries.
Its weight limit is 154 pounds, and its dimensions are 32.6" x 15.5" x 36.9".
Depending on where you purchase the scooter from and whether or not it's on sale, you can get it for between $150 and $250. The GoTrax website offers payment in installments through Klarna.
Head over to the GoTrax website to know more.
13 to 14 years – HiBoy S2 Lite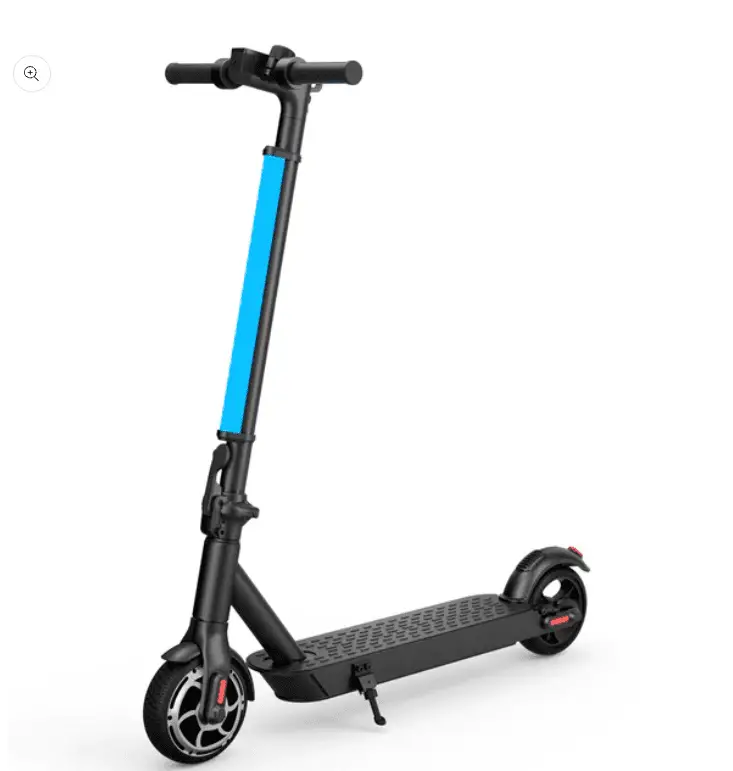 The HiBoy electric scooter is the perfect combination of smaller kids' scooters and full-size adult models. It is ideal for kids transitioning into their teenage years. Some 13-year-olds may like this scooter better than the Gotrax because it's designed for more mature teenagers.
With a maximum speed of 13mph, it is slightly faster than the model discussed above. This allows your teenager to go a little fast.
It has a maximum weight tolerance of 180 pounds and can go up to 10.6 miles on a full charge. As for price, it is more expensive than the average electric scooter and can cost anywhere between $350 and $400.
What makes it stand out are its various supplementary features. For instance, it has puncture-resistant tires. A 14-year-old is hardly capable of dealing with a punctured tire, and it's likely that they'd have no clue what to do and get upset. So these tires come in handy and save them from ever having to deal with such a situation.
Also, it is super light, compact, and foldable. It weighs a mere 21 pounds. If your teenager is riding this scooter to school, they can put it in their locker during class. Moreover, it has an LED dashboard, a narrow deck, and a sophisticated stripped-back style.
Make a quick purchase on the HiBoy website.
15 to 16 years – GoTrax GXL V2
For 15 to 16-year-olds, I recommend the GoTrax GXL V2. This top-of-the-line scooter has a maximum speed of 15.5 mph, can easily carry up to 220 pounds, and has a range of 12 miles.
A couple of features make this GoTrax scooter stand out, especially in comparison to the other GoTrax model mentioned before.
First, it supports a lot of rider weight. So most 15 to 16-year-olds should be able to ride on this machine.
Second, it has a one-touch folding mechanism. 16-year-olds are typically in high school, so they can use their scooter to get to school, and since it is portable and easy to pack up, they can put it in their lockers during classes.
Third, its tires measure up to 8.5 inches, which means they offer great traction and stability. They're also pneumatic. On one hand, this means they are more prone to punctures, while on the other, this means your teenager will get great ride quality and comfort.
Lastly, this GoTrax scooter is one of the best scooters you can buy for around $300 with these features. Not only does this machine come with amazing features, but it also has a fairly reasonable price.
One big downside is the inefficient lighting system. The scooter doesn't have a tail light, so your teenager won't be seen when driving in the dark. Also, its headlights are barely visible and aren't enough to provide lighting during the night.
Therefore, you'll have to get additional lighting if your teenager is going to go on after-dark adventures.
Click here to buy on the GoTrax website.
17 to 18 years – 1. TurboAnt X7 Pro
2. GoTrax GMAX Ultra
I have 2 recommendations for 17 to 18 year old teenagers. The first one is a TurboAnt model, and the second one is a GoTrax model.
1. TurboAnt X7 Pro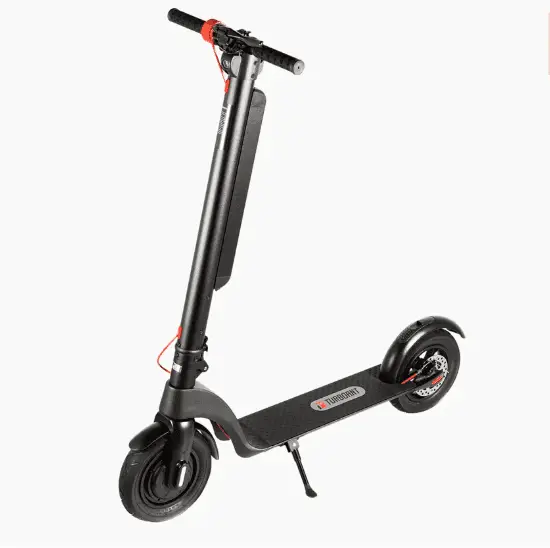 The TurboAnt X7 Pro is the perfect scooter for adults and teenagers alike. It has superb features that make it a great mode of transportation so I can't recommend it enough for 17 to 18 year olds.
It has a maximum speed of 20 mph, a range of 30 miles, and a load capacity of 275 pounds. It weighs 33 pounds which makes it quite portable.
This scooter stands out because of its maximum load capacity. Most scooters have a maximum load capacity of 220 pounds, but this one goes up to 275 pounds which means it can support heavier riders.
The 30 mile range is a little lower than the GoTrax mode we're going to discuss for 17 to 18 year olds further on. However, note that this range matches the weight capacity. It is based on the rider's weight, how fast they're going, and the kind of terrain they're riding on.
So the further away you are from the maximum weight limit, the better performance you'll get.
There is a chance you can get a lot more than 30 miles on a full charge with this scooter.
It comes with 3 riding modes: beginner, eco, and sport, which go up to a maximum speed of 6, 12, and 20 mph, respectively. The higher the speed, the quicker the battery runs out. For prolonged battery life, consider switching to the eco rider mode for extended mileage.
A convenient folding function makes the X7 Pro a great option for commuters. Your teenager can fold it up and put it away in just a few seconds!
However, the handlebar stem is a little thick. So holding the folded-up scooter can be an issue for people with small hands. Its stem holds the battery, so it has a larger diameter than typical scooters. This adds to the design element, but it can be an annoyance to some.
Despite the lack of suspension, the 10-inch tires provide a smooth ride. The scooter is super stable and easy to ride. It holds up well on dirt tracks and slightly uneven terrain. However, it won't hold up well on super uneven or muddy tracks.
Learn more and purchase on the TurboAnt website.
2. GoTrax GMAX Ultra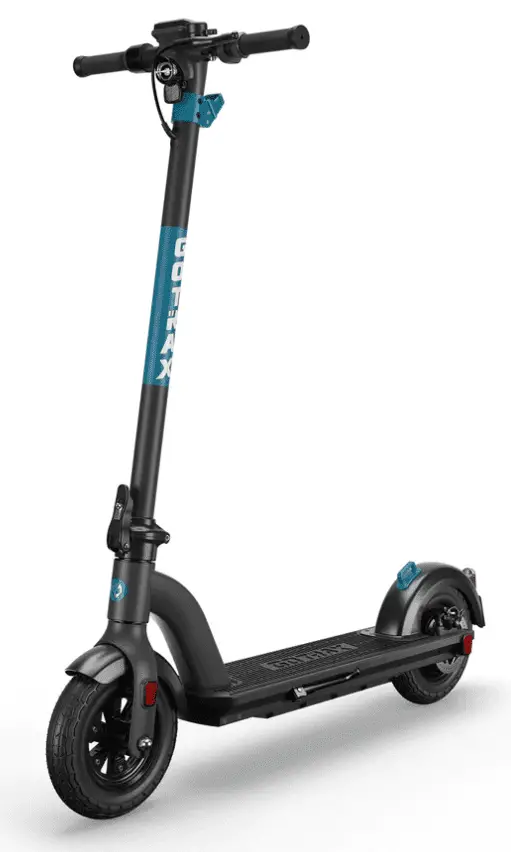 With a maximum speed of 20 mph, load capacity of 220 pounds, and range of 45 miles, this scooter is an excellent option for teenagers on the brink of adulthood. If your kid is getting ready to go off to college, this is the scooter for them.
There are quite a few reasons why I like this scooter.

For starters, it has a high-quality LG battery that can run for a super long time once fully charged. Most colleges are spread out across a large area, and students have to walk a lot to get from one end to another. An electric scooter can help them get to their classes faster.
The shock-absorbing tires further this benefit. Since your teenager will have to ride their scooter on roads, bike paths, up and down hills, and pavements, they need tires that can ride smoothly on different surfaces so they aren't uncomfortable. The easiest way to ensure this is by having shock-absorbing tires.
Another reason is its water-resistance rating. Most east coast universities experience a lot of snow during the winter. So water resistance comes in handy. Even if your teenager isn't going to an east coast college, they will eventually have to deal with rain.
Moreover, the scooter has a sleek appearance. It's made with an aluminum alloy that provides a solid underfoot and good balance. Its steering column and large tires provide maneuverability and add to the machine's design.
Additionally, it has intuitive controls, an easy-to-use one-click folding mechanism, and a built-in digital lock and cable lock. These supplementary features make it super easy to use and ensure that nobody can steal it.
To learn more and to make a purchase, visit the GoTrax website.
19 years – 1. Horizon 10.4
2. EMove Touring
I have 2 recommendations for 19-year-old teenagers too. These include the Horizon 10.4 and the EMove Touring scooters.
1. Horizon 10.4
The Horizon scooter is great for 19-year-olds because it has a maximum speed of 25 mph, making it one of the fastest machines mentioned in this article. It has a range of 20 miles and can carry up to 265 pounds. The scooter itself weighs 40 pounds.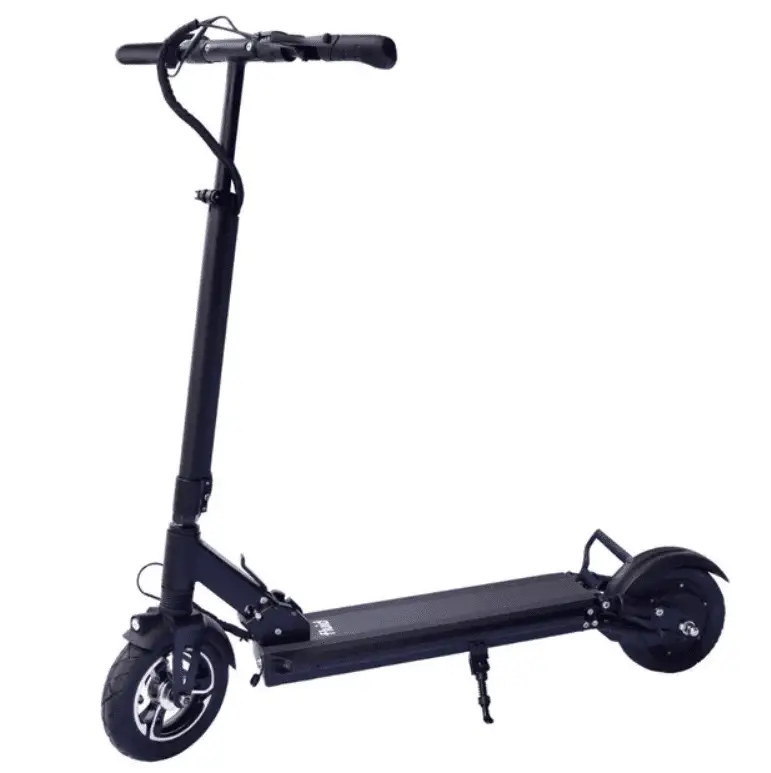 It is extremely portable because of its simple lever-based folding mechanism and allows you to customize handlebar height because of its telescopic stem. You can move the bar up and down based on how tall the kid is.
Moreover, the scooter's high load capacity means it is suitable for heavier riders.
Even though it folds up into a compact shape, it has a robust frame with a spacious deck. The deck is 18.3 inches long and 7 inches wide. It has 2 columns of grip tape that are meant to keep your feet in place as you ride.
Let's talk about the downsides now. Like many of the other scooters mentioned before, this one also has ineffective lights. It comes with 3 headlights and 2 backlights. However, they aren't positioned well and don't have enough power to cast enough light.
So you will have to get extra lighting for the scooter.
Check it out and buy it on the FluidFreeRide website.
2. EMove Touring
The EMove Touring stands out because of its high 308-pound load-bearing capacity and high maximum speed.
This scooter is another great option for 19-year-olds. It has a maximum speed of 24 mph and a 25-mile range. It weighs 39 pounds.
Some great supplementary features include a triple suspension system, a telescopic stem, foldable handlebars, an excellent LG battery, water resistance, and a battery management system.
As for some downsides, the scooter has ineffective lights, doesn't have a dual braking system, and is more expensive than the other scooters mentioned before.
It is a great gift for heavy riders who need a fast scooter to get them from one place to another. You can get up to 15 mph in just 4.5 seconds.
With any fast vehicle, you need a decent braking system. This scooter has a rear drum brake which does exactly that. It isn't the most modern braking system, but it gets the job done effectively. These systems are dust and water-resistant and don't need to be oiled very often, making them ideal for first-timers.
Moreover, even though the scooter can carry a lot of weight, it doesn't weigh a lot in itself. In fact, it is quite light and can be picked up and carried quite easily.
Check out the EMove Touring or make a purchase on the Voro Motors website.
FAQs
Can A 14 Year Old Use A Electric Scooter?
Most kids' electric scooters are suitable for ages 8 and up. However, if you're getting a higher-model e-scooter you'll want to check specific age guidelines with the manufacturer. In general, a 14 year old should be able to use any quality e-scooter to travel within their city.
Who Can Rent An Electric Scooter?
While teenagers of all ages can ride electric scooters, rental laws may vary from area to area, please refer to your local or state official information. Commonly teens above the age of 16, with the right identification, should be able to rent an electric scooter for road use.
Conclusion
Scooters are a great gift for teenagers because they offer them a great number of benefits. You should invest in one of these devices as it means you no longer have to drive them around the neighborhood!
There are a lot of different models available on the market. Each one has its pros and cons. You can make the best decision for your teenager by considering the 6 factors I listed and discussed above.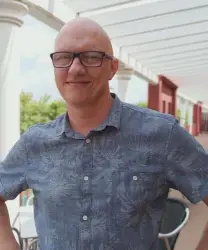 Latest posts by Jonathan Rice
(see all)