Yes, you can install your own catalytic converter in California, under certain strict conditions.
If your original catalytic converter is defective, deteriorated, damaged, stolen, or fails to pass an emissions test, you will need to replace it.
Read on to find out how to legally install your own aftermarket catalytic converter in California.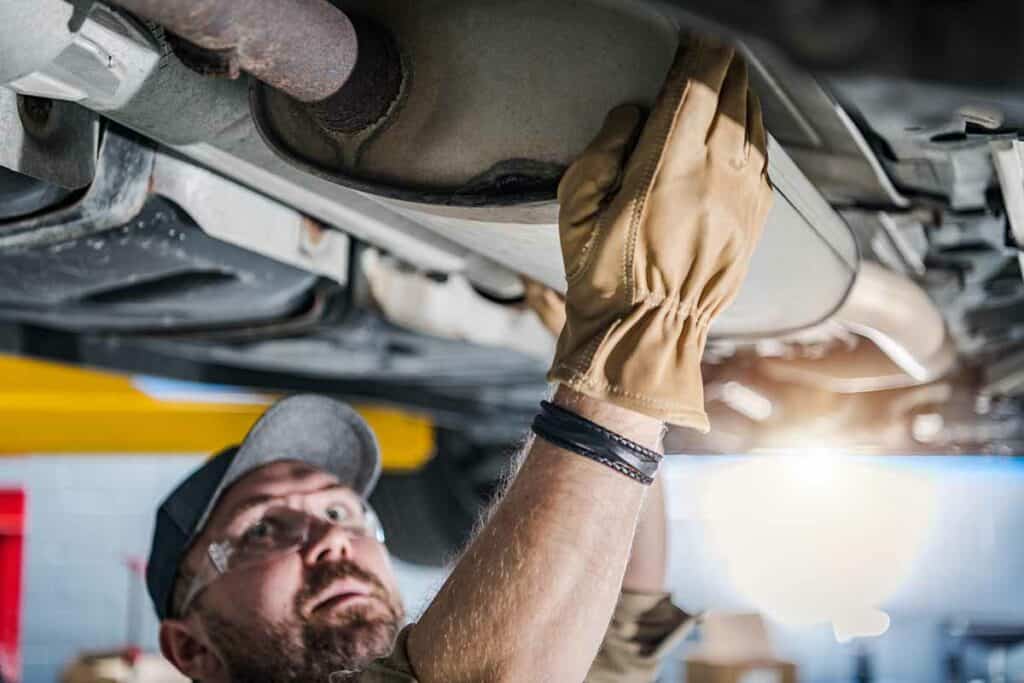 Obligatory Checklist (Don't skip any of these points!)
The following things are absolutely necessary when replacing your catalytic converter and installing a new one in California, if you want to pass your smog test:
The aftermarket catalytic converter must be new, (used CC's are banned!)
Ensure that the new catalytic converter is CARB* compliant.
If the catalytic converter is not OEM* it must have an assigned Executive Order (EO) number.
The catalytic converter must meet the exact requirements for your vehicle (i.e. the EO number must match your vehicle).
*CARB: The California Air Resources Board sets its own emissions regulations which include catalytic converters and are stricter than Federal (EPA) emissions regulations.
*OEM: Original Equipment Manufacturer, in other words, the automaker of your vehicle. An OEM catalytic converter is therefore an original part and are generally made to a higher standard of durability than aftermarket parts.
How to Check CARB Compliance.
When purchasing your aftermarket catalytic converter, check that it is labeled as California CARB legal.
California has stricter emissions regulations than standard federal state (49-State) regulations and not all catalytic converters available for purchase are approved for use in California.
Ensure that the dealer shows you the certification. If purchasing online, a reliable website should provide all the information about CARB compliance.
How to Check the Catalytic Converter's Executive Order (EO) Number is Correct.
Just being CARB approved is not enough, your aftermarket catalytic converter must also have the correct EO number for your specific vehicle.
The California Air Resources Board specifies which vehicles any given aftermarket catalytic converter is allowed to be used on, in their extensive database.
If a catalytic converter is used on a different vehicle other than the one/s designated in the database, the installation would be illegal and would not pass a smog check.
This means that you can't just install your aftermarket catalytic converter because it's shape and size fit your car.
The same advice as in the case of checking CARB compliance is valid for the EO number.
When purchasing your aftermarket catalytic converter, you must get the EO number from the dealer.
When you have the EO number, check that it's the correct one for your specific vehicle, before purchasing.
Some dealers will have the list of certified and approved vehicles for any given converter.
TIP: It's highly recommendable to double check the EO number information for free on the CARB website: Aftermarket Catalytic Converter Lookup.
When you get the catalytic converter in your hands, you can double check the EO number because it will be physically etched onto it.
See image below: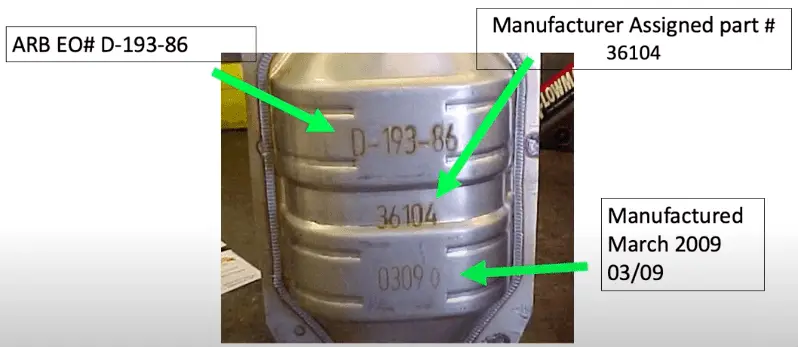 The Smog Check Referee
Can't find the correct replacement converter? Or your converter is on back order and your smog check is coming up?
In these cases the Bureau of Automotive Repair is here to help with its "Smog Check Referee" service.
Is It Worth Installing An Aftermarket Catalytic Converter Yourself?
You may save yourself some money by carrying out an aftermarket catalytic converter installation yourself, however bear in mind that if something goes wrong, you may end up losing money!
The government of California recommends that for example, in the case of catalytic converter theft, you go to a licensed smog check station and have your converter replaced there.
This way you guarantee that you won't encounter any problems in your next smog test, (at least not as far as your catalytic converter is concerned).
Should there be any mistake with your installation or an error with the EO code, then it would be your responsibility and in the worst case may force you to pay for a completely new installation.
So think carefully before going ahead with the installation yourself about whether it's really going to be worth it.
Conclusion
You certainly can install an aftermarket catalytic converter yourself in California, but you will need to make sure you do it properly so that you pass your next smog test.
Take care to get the right CARB compliant converter for your specific vehicle, and if in any doubt, refer to the California government database and in the case of difficult installations, to the Smog Check Referee.
Consider getting your installation done at a licensed smog check station to avoid problems at your next smog check.
States that have adopted CARB emissions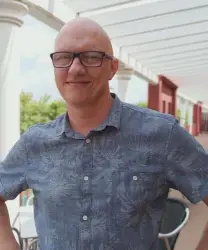 Latest posts by Jonathan Rice
(see all)