After deciding the best color for your new Tesla, you'll want to ensure you're doing everything possible to protect that color. Fortunately, a ceramic coating product can help you do just that! But what is the best ceramic coating for Tesla vehicles?
Adam's Advanced Graphene Ceramic Spray Coating is one of the best DIY ceramic coatings for Tesla vehicles. You can apply this coating at home without professional help. However, a professional ceramic coating could provide the best results. Tesla owners should also consider paint protection film (PPF).
This article will discuss which ceramic coating options are the best for Tesla cars. We'll also compare ceramic coatings and paint protection film (PPF), discussing the pros and cons of each. You can use this information to choose the best product to protect your Tesla's exterior.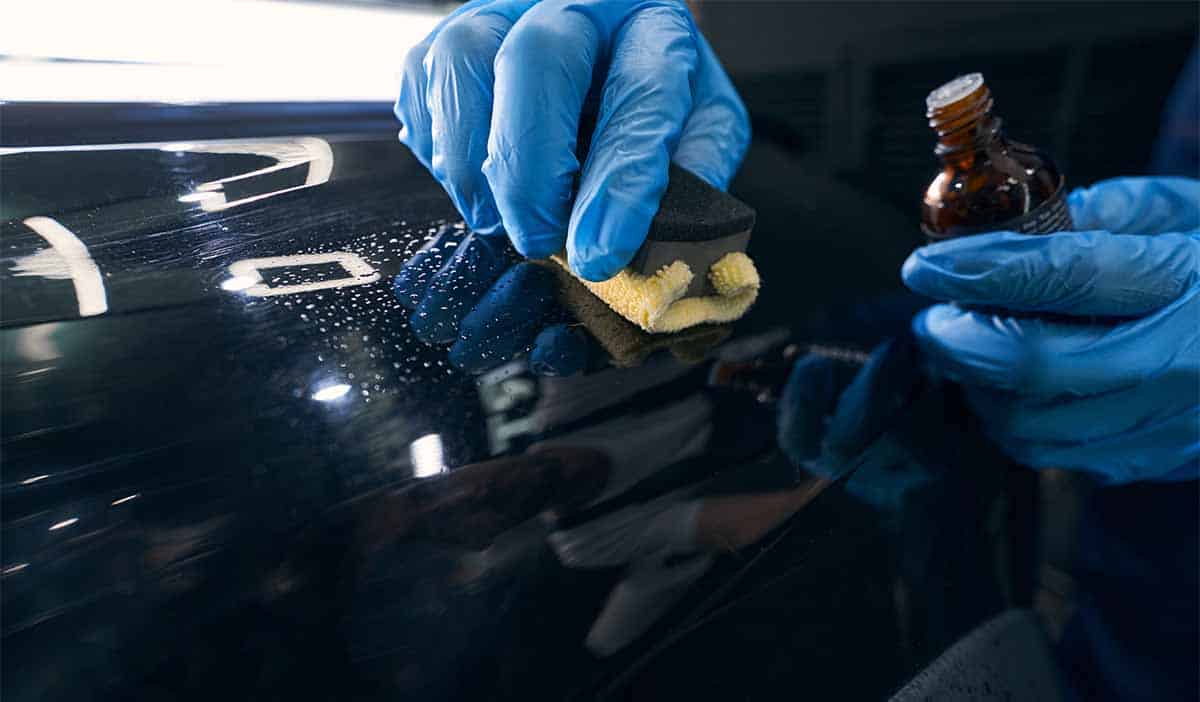 Best DIY Ceramic Coating Product for Tesla Cars
Selecting the best ceramic coating (also known as nano ceramic coating) for your Tesla can be a time-consuming process, which is why we've narrowed things down to three top picks:
Adam's Advanced Graphene Ceramic Spray Coating
Turtle Wax Hybrid Solutions Ceramic Spray Coating
Mothers CMX Ceramic Spray Coating
If you're looking to skip the browsing process and select a high-quality DIY ceramic coating, any of these three options could be excellent choices. But let's explore each in more detail to ensure you select one that suits your preferences and budget!
If you're looking for an all-surface ceramic coating spray, it's hard to find a better option than Adam's Advanced Graphene Ceramic Spray Coating (available on Amazon.com). This ceramic liquid can last up to two years, making it more durable than most DIY ceramic sprays.
This graphene-based spray also contains elements that react to UV light, allowing users to see the ceramic coating with the help of a UV flashlight. This quality makes it easy for Tesla owners to patch up broken spots in the coating.
The graphene in this spray makes the coated surface more water-repellent than non-graphene coatings. This water-repellent effect is known as the "hydrophobic" property of the coating.
If you'd prefer, you can invest in the smaller Adam's Graphene Ceramic Coating 2 fl oz (60 ml) bottle (available on Amazon.com), ideal for a two-layer application. Although this tinier bottle is pricier than the spray-bottle variety, it can provide more than nine years of protection, making it the better long-term choice.
Turtle Wax products are available at most major automotive supply and department stores, making them an accessible in-store choice. Additionally, Turtle Wax products tend to be more affordable than highly specialized alternatives.
This 16 fl oz (473 ml) spray (available on Amazon.com) has enough ceramic coating liquid to apply about 15 coats, and at less than $20 per bottle, it's one of the most budget-friendly options.
This coating can provide up to one year of protection, though its silicon-based formula isn't as long-lasting as graphene-based ones. Still, this Turtle Wax product might be the best choice if affordability is a top priority.
This ceramic spray (available on Amazon.com) is one of the easiest to use, as it's a spray-on, wipe-off formula. It's also relatively fast-curing, with each layer taking only 24 hours to cure fully. Others can take several days (or even a full week)!
That said, Mothers CMX Ceramic Spray Coating has a comparatively short lifespan of about three weeks. So you'll likely need to reapply coatings every month to protect your Tesla's paint job from scratches and corrosive materials.
But considering its affordability and ease of use, it's still a top contender for DIY ceramic car coating products.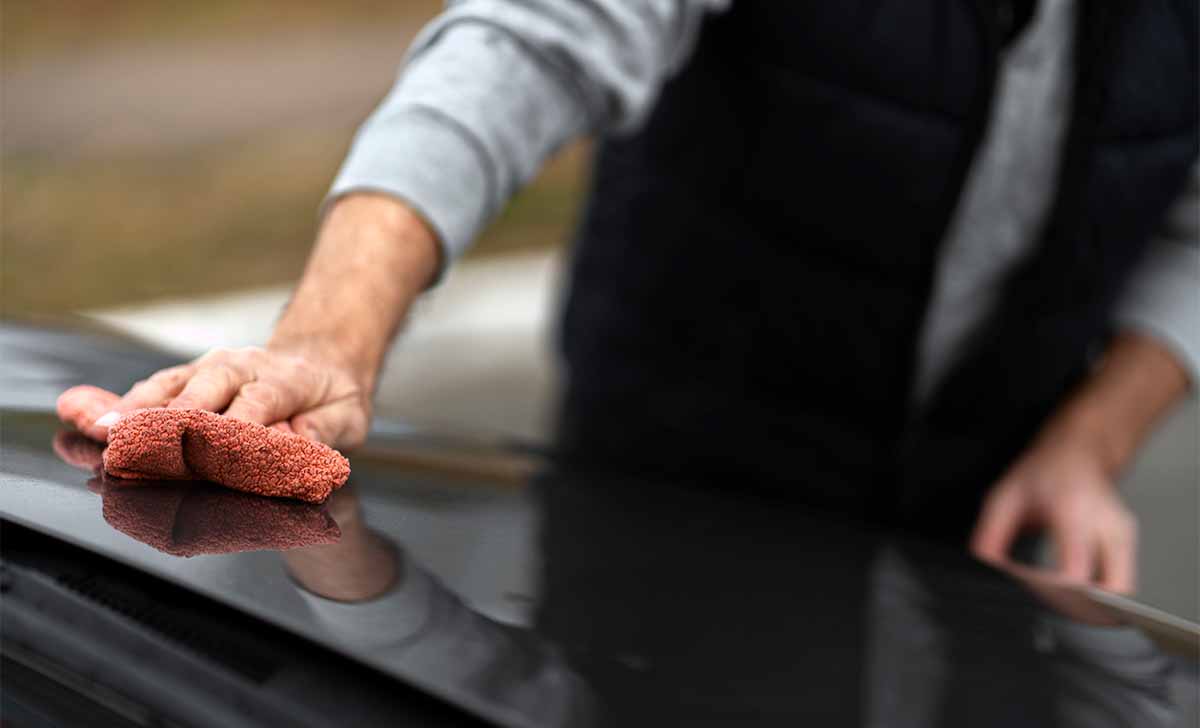 How To Choose the Best Ceramic Coating for Tesla Vehicles
Selecting the best ceramic coating for your Tesla can be tricky, as there are hundreds of ceramic coating products from which to choose.
Besides, there is a long list of confusing terminologies, such as nano coating, Titanium Dioxide / TiO2, Silicon Dioxide / SiO2, hydrophobic etc.
But you can make the browsing process simpler and select the best option for your vehicle by focusing on two crucial factors:
Ease of application, and
Coating durability
Let's briefly discuss how these factors can make or break a ceramic coating product.
Ease of Application
One of the first things to look for when choosing a ceramic coating for your Tesla is ease of application.
Some ceramic coating liquids come in pop-top bottles, while others come in spray bottles. Spray bottles are the better choice, as the spray nozzle makes the ceramic liquid easier to apply in an even layer and is less prone to spilling.
Coating Durability
Not all ceramic coatings are equally long-lasting. Some only last a few weeks, while others can last for years.
For example, Mothers CMX Ceramic Spray Coating has an approximate durability of three weeks, while Adam's Advanced Graphene Ceramic Spray Coating can provide a protective layer that lasts for months or even years.
As a general rule, the higher the amount of Silicon Dioxide (SiO2) they contain, the longer their durability. A highly durable ceramic spray will contain between 80 and 86% SiO2, while the cheapest ceramic sprays contain as little as 10 to 14%.
If you're looking to minimize reapplications while maximizing the protective quality of your ceramic coating, you'll want to ensure you're selecting the most durable option. That said, greater durability often equates to a higher price.
It's worth clarifying that all ceramic coatings are "hydrophobic coatings" in that they are water-repellent.
DIY vs. Professional Ceramic Coating
Coating your Tesla in liquid ceramic can be time-consuming, and the final result could be disappointing if you don't prepare your car for the coating process or take it out for a spin too quickly afterward.
For this reason, many Tesla owners opt for a professional ceramic coating service. But if you'd like to spend less to enjoy the benefits of ceramic coating, a DIY job could be the better choice.
If you're unsure which option is best for you, weighing the pros and cons can offer some insight.
As you're reading this article, you obviously take the maintenance and care of your Tesla seriously, so I thought you might find my article on my four best cleaners for Tesla vegan-leather seats worth a read.
DIY Ceramic Coatings: Pros and Cons
Applying a ceramic coating at home could be a practical choice, especially if you have plenty of time on your hands or are hoping to stick to a tight budget. Here are some of the benefits and drawbacks of doing a DIY ceramic coating:
Pros
Affordable: A bottle of ceramic coating spray for your vehicle generally costs $50 or less. As such, it's far more affordable than a professional ceramic coating service (which typically costs hundreds or thousands of dollars).
Convenient: When you leave your Tesla at an autobody shop, you'll need a backup mode of transport while your vehicle is in the shop. But when you install a ceramic coating at home, there's no need to rent a car or schedule a rideshare service. Overall, at-home ceramic coating is more convenient.
Cons
Labor intensive: Applying a ceramic coating can take hours of hard work. You'll need to prepare your vehicle's exterior for the coating, remove scratches, correct the paint, and let the coating cure. A DIY ceramic coating is incredibly labor-intensive.
No warranty: Unlike professional ceramic coating services, a DIY coating isn't backed by a warranty or service guarantee. So, if the coating ends up with a few light scratches just a few days after you finish applying the ceramic, you're on your own.
Professional Ceramic Coatings: Pros and Cons
Having a ceramic pro work on your Tesla can be expensive, although professional ceramic coatings cost less for a new car.
If you're considering choosing a professional service, you'll want to ensure your Tesla's exterior is enjoying proper maintenance (regular cleaning) or take your vehicle in for a professional coating service while it's still new.
Here are some of the pros and cons of having your Tesla's ceramic coating done by a professional:
Pros
Easier: Having professionals apply a ceramic coating means you don't need to spend hours cleaning and preparing your Tesla's exterior, applying the ceramic, and waiting for it to cure. The pros will handle all of that for you!
Paint correction: Professional detailers will ensure your current paint job is ready for a protective coating before applying ceramic, They'll correct any pre-existing paint discoloration or scratches for an attractive and uniform finish.
Warranty options: Most autobody shops offer ceramic coating warranties, ensuring that your service is protected by years of warranty protection. Ceramic coating products don't come with these types of protection guarantees.
Cons
Pricier: While you could purchase a bottle of ceramic coating for between $20 and $50 and cover your entire vehicle in multiple layers, a professional ceramic coating service can cost between $600 and $2,000.
Not more durable: Although a professional ceramic coating could look better than an at-home DIY job, it probably won't be more durable. Ceramic coatings are between 1 and 10 microns (0.001 mm to 0.01 mm) thick, making them thinner than a strand of human hair (between 50 and 90 microns) — and prone to developing scratches, no matter how many layers you create.
Is Paint Protection Film (PPF) an Alternative To Ceramic Coating?
When exploring protective coatings for your Tesla, you'll likely stumble upon multiple options, including paint protection film (PPF). But how does a PPF differ from a ceramic coating?
Well, PPF differs from ceramic coatings in several ways.
Firstly, a paint protection film (also known as a clear bra) is made of polyurethane. It's similar to lamination paper or vinyl coverings. It's thin, has a side covered in adhesive for easy application, and "sticks" onto vehicles.
On the other hand, ceramic coatings come in liquid form and must cure to become a solid protective layer. That said, Tesla owners can choose to apply a PPF in lieu of a ceramic coating, as both options protect your vehicle's paint from scratches.
But which of these protective coatings offers the best degree of protection?
Ceramic Coating vs. Paint Protection Film (PPF): Which Is Better?
Protecting your car's paint can be challenging, especially if you live in a densely populated city or coastal town. After all, everything from bird droppings and accidental car door dings can strip your car's paint, leaving unsightly gray and silver areas that are prone to rusting.
To ensure your Tesla vehicle looks its best, no matter the environmental factors that come into play, you'll need to choose the most durable and visually attractive protective layer. But which is better, a ceramic car coating or paint protection film (PPF)?
Let's explore the advantages and drawbacks of each option to determine which is the best coating for your Tesla.
Ceramic Coating: Pros and Cons
Whether you apply a ceramic car coating to your Tesla yourself or hire a professional, there are quite a few benefits to coating your vehicle in a ceramic layer.
That said, there are also a handful of drawbacks you'll want to keep in mind. So, before installing a ceramic coating, you'll want to weigh the pros and cons.
Pros
Easy to apply: Although you'll need to spend time preparing your Tesla for a ceramic coating, the actual application process is pretty straightforward and similar to adding a wax coating to your car. So you don't necessarily need to hire professionals to install a ceramic coating.
Affordable: Compared to PPF installation, professional ceramic coating services are inexpensive. DIY applications are even more affordable, making a ceramic car coating the more budget-friendly option.
Visually appealing: Ceramic coatings adhere to your car's paint on a molecular level, resulting in a visually appealing finish that doesn't peel or flake off like PPF. This could also allow you to raise your asking price if and when you sell your Tesla.
Cons
Swirl marks: Automatic car washes and abrasive washing tools can create swirl marks on ceramic coatings, necessitating a polish and ceramic reapplication.
Thinner layer of protection: Most ceramic coatings are only a few microns thick, making them easier to scratch than PPF.
Paint Protection Film (PPF): Pros and Cons
Like a ceramic coating, paint protection film has its fair share of advantages and drawbacks. For example, while PPF is generally considered the more durable and longer-lasting option, it tends to be pricier than a ceramic coating.
Pros
Years of protection: The average lifespan of a ceramic coating is about three years, but high-quality, well-maintained PPF can last a full decade. In terms of long-term costs, this makes PPF the better overall choice.
Self-repairing: When PPF develops a small scratch, it can "self-repair," essentially erasing that damage. That's because the polyurethane can stretch when exposed to heat, reattaching to itself in the process.
More durable: Paint protection film is generally thicker than ceramic coatings, with a thickness of 0.0006 in to 0.0014 in (0.015 mm to 0.035 mm). This greater thickness makes it more durable than ceramic.
Cons
Challenging to install: Because PPF must fit your car's shape precisely to be effective, installing PPF without professional assistance can be challenging (if not impossible). This makes paint protection film installation a professional-only service.
Harder to replace: A ceramic coating might develop scratches, but filling in those scratches is a much easier process than reapplying PPF. After all, PPF can flake and peel unevenly, making it challenging for autobody detailers to replace it evenly.
Ceramic Coating vs. Paint Protection Film (PPF): Final Verdict
Both ceramic coatings and paint protection film protect your car's paint from scratches. However, they differ in terms of lifespan and ease of installation.
The average ceramic coating has a lifespan of two to five years. Tesla owners can apply this protective layer themselves thanks to DIY ceramic coating sprays and application kits.
In contrast, paint protection film (PPF) has a lifespan of five to ten years. However, applying a PPF without professional assistance is far more challenging. Consequently, ceramic coating is the more accessible DIY option.
Still, these protective layers work best when used in tandem.
Tesla vehicles covered in a high-quality PPF and two to three layers of ceramic can resist scratches from road debris (rock chips, pebbles) and environmental factors (bird droppings, acid rain) better than vehicles outfitted with only one type of covering.
Ceramic Coating Myths
Let's look at the comment myths and misconceptions about ceramic coatings.
You Don't Need to Wash Your Car.
Although a ceramic coating is hydrophobic, it doesn't mean you don't have to wash your car. Washing your car will be easier. However, proper aftercare is required, which includes regular washing of your vehicle.
Ceramic Coatings are Permanent.
Ceramic coatings may provide short or long-lasting protection, but they don't last forever. Even if you choose a long-lasting coating, the longevity of any coating is limited and, at the very most, may last five years.
You will have to re-apply ceramic coatings with greater or lesser frequency, depending on the durability of the one you choose.
Ceramic Coatings are Chemical Resistant.
Although a ceramic coating creates a protective layer over the surface of your vehicle, and it does help to create resistance to chemical exposure in the air that it otherwise wouldn't have, this doesn't mean that it's not affected by chemicals.
With time, the coating will gradually wear away with chemical exposure and general exposure to dirt and dust.
Ceramic Coatings are Rock Chip Proof.
Ceramic coatings are very effective protective solutions for your vehicle against general road grime and dirt. However, they provide no guarantee against rock chip damage.
Your best defense against rock chip damage, scratches, and other imperfections, is a paint protection film, being thicker and softer than a ceramic coating.
Final Thoughts
The best ceramic coating for Tesla depends on your preferences. For example, if you'd like to apply a ceramic coating yourself, Adam's Advanced Graphene Ceramic Spray Coating could be the best choice.
However, professionally-applied ceramic coatings require far less effort and tend to look better than DIY jobs. But they are more expensive!
Still, if you're looking for the longest-lasting and most durable protective coating for your Tesla, you might want to skip ceramic and select paint protection film (PPF). This type of protective layer repairs itself and is denser than ceramic.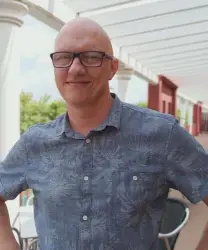 Latest posts by Jonathan Rice
(see all)